eARTh heART ART Studio Art Classes
"It took me four years to paint like Raphael, but a life time to paint like a child.
Every child is an artist. The problem is how to remain an artist when we grow up.-
– Pablo Picasso
Welcome to E.H. A Earth Heart Art Studio Page.
Art Classes for artists ages 3-103
We now have a Facebook page to keep in touch and see what is happening in the studio…
https://www.facebook.com/Earth-Heart-ART-Centre-EHA-Studio-works-1553837121573080/?fref=tssee
EARTH: see what happens when you move the H to the front… Heart
Art is right in the middle of earth and the end of heart… that pretty much sums up the studio's focus.
The studio classes are intended to inspire the participant to feel free to be in their own creative exploration, to express their unique creative voice through artistic means…
In my experience when people of any age, ability or background are provided the means to explore creatively and are offered a supportive and inspiring atmosphere to express in, it most often provides a freedom of time, with the potential of creating a direct connection to the person heart, to their essence. The more creative heart centred people we support and encourage in the world the more the earth will flourish. It is a cycle. earth heart art.
The aim of art is to represent not the outward appearance of things, but their inward significance.
-Aristotle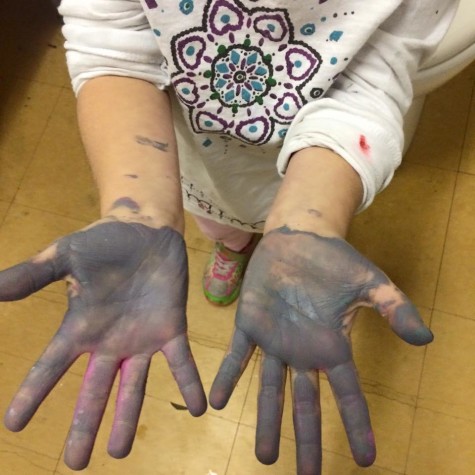 Our focus is to explore, grow, invent and have fun. The studio is an environment to guide and provide inspiring creative opportunities . The classes are held in my art studio space, with high ceilings, natural light and in a fantastic creative warehouse building at 251 Sorauren Ave Toronto
The studio classes offered are guided by a dynamic group of experienced talented creative working artists. We offer a variety of specialized workshops and classes through out the year, private classes and camps during all school holidays.
2016!!!! CHILDREN, TEENS AND ADULTS
ART CLASSES REGISTRATION ON GOING! TO REQUEST AN AGE GROUP and TIME Please EMAIL ehastudioart@gmail.com OR contact Bridget at 416-723-0072
Current Children and Teen After School Options for Spring 2016
Tuesdays & Thursdays for 8 week sessions $160
Tuesday April 5th 2016 5-6:15
Thursday April 7th 2016 5-6:15
for age groups please contact Bridget
*private classes are available for all ages * Gift Certificates Available Upon Request.
*Special classes offered during the day for home schooled children, Monday-Thursdays. Times and days will be set with the need of the group. Please email artistbridgetgriggs@gmails.com and indicate the time of day and day of the week that works best.
to register please email artistbridgetgriggs@gmail.com or call 416-723-0072. Depending on class size, some classes will have some space open to offer subsides to families or individuals that could use the support.
It's time for more creative inspiration and fun! The studio classes are dedicated to creative expression in many forms. Here we let it all out. During the classes we will be rolling up our sleeves, opening our curiosity and imagination and spending time exploring and expressing with an array of creative tools! Practicing being present and allowing Spontaneity is the key to unlocking any doors.
Classes are for artists of all ages… you will be provided with the space to tune into your own intuitive creative self-expression. This is a time where curiosity and imagination can expand using a wide range of colours, artists tools, a variety of paints and natural materials, creating textures and images that express uniqueness. The classes really bring more then art out in the participants, it is a process and a creative journey that enhances intuition, problem solving, expression, self empowerment, helps building self-esteem, brings joy, ignites curiosity, discovery, enthusiasm, general well being and more. The moment to moment process it what it's all about the product at the end is an added bonus.
The studio is a space where a person/child can feel supported, courageous and curious while exploring their creative side. There is no testing and the rewards are self-fulfilling…feeling a sense of self expression and connection through creativity. It can be one of the most powerful resources we can give ourselves and or a child. The space becomes a community of sharing, inspiration and supporting one another to take creative leaps and create from what feels genuine to that person.
A little bit of my background working children.
For over 20 years I have been creating art with 100's of inspiring children and adults from the ages of 2-92
Back in 1993, once my first son began elementary school, I became aware of the need for more creatively focused outlets within his school. Inspired by my love for children and with a background in acting, clowning and mask making I felt there was some way I could contribute. After meeting with the principal and having his approval the newsletter went out and classes began!!! And thanks to an amazing supportive group of fantastic talented generous actors, who volunteered to assist the initial class of 24 students in mask making, we took off. I soon went to other schools and communities to assist in creating programs…offering drama and mask making, sculpture and painting. By the time son, Zak, was in grade 7 I was able to form a wonderful team of creative people and introduce hip hop/ break dancing and graffiti art into his middle school. I taught evening adult abstract painting classes through the Toronto Board of Education General Interest seasonal Courses.
I am very passionate about connecting people with art and feel it is essential to explore ones creative expression.
In 2010 I began a professional career as a painter and I have been creating work in my studio at 251 Sorauren Ave ever since.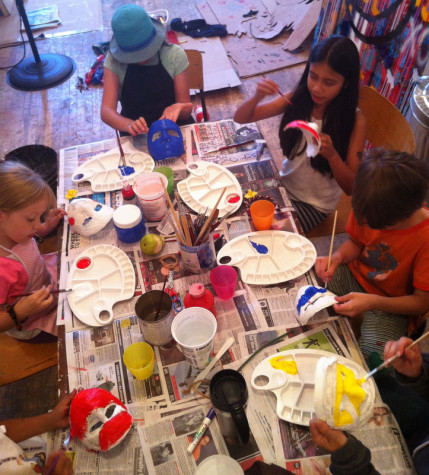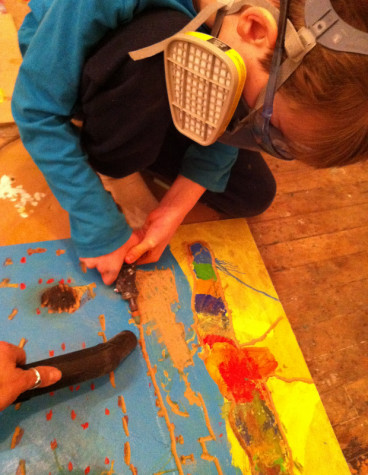 "You realize that you can't represent reality at all- that what you make represents nothing but itself, and therefore is itself reality". – Gerhard Richter
"I paint objects how I think them. Not how I see them." Pablo Picasso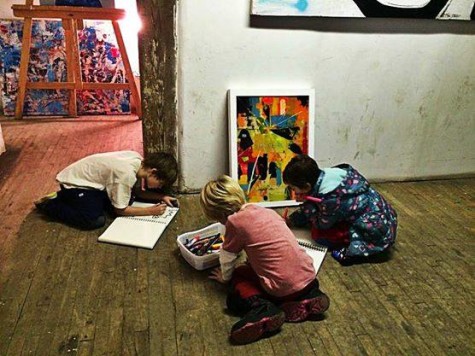 "I found I could say things with color and shapes that I couldn't say any other way – things I had no words for."
Georgia O'Keeffe